AST Achieves Record Breaking Year in Defensive Licenses and Membership Despite Global Pandemic
Despite a challenging year while operating in a global pandemic, AST is celebrating the achievement of granting 4,000 defensive licenses to Member Companies.  For the first time in AST history, the number of licensing deals surpassed acquisitions.  Although there were disruptions in 2020 and budgetary constraints, there was an increase in membership, reaching 40 members.   During 2020, AST offered over 1,252 patent purchase opportunities, exceeding 15,000 patent assets which involved over 600 sellers and 100 brokers.

Defensive licenses
AST has granted 4,000 defensive licenses to our members.  There has been a trend by patent owners/brokers to offer select operating companies a license to patents before divesting to a non-practicing entity (NPE).  As a collaborative cooperative of high-tech operating companies, each license facilitated by AST comes as a result of cost-sharing among member companies.  This keeps down the cost of a license to a fraction of the cost of a 1:1 license in a bilateral negotiation.
As each license potentially prevents a litigation, these licenses allow AST members to save litigation costs and reallocate those resources to innovative efforts.  During 2020, AST had a tremendous growth in licensing deals doing more licensing deals than acquisitions for the first time in AST's history.  These licensing deals often allow AST members to get licenses in circumstances where an acquisition of the portfolio is not practical or impossible.

Membership growth
2020 marked another milestone as AST increased membership to 40 global technology companies.  As AST membership grows, we offer more opportunities for those member companies to collaborate, and for rights owners to license or sell patents.  AST membership growth also enhances our network of intellectual property professionals and thought leaders.

Secondary Market for Patent Purchase Opportunities
Since 2007, AST is monitoring and tracking the secondary market of the patents available for purchase.   Each year, AST is being offered more patent purchase opportunities by an increasing number of sellers and brokers. During 2020, AST was offered over 1,252 patent purchase opportunities with over 15,000 patent assets involving over 600 sellers and 100 brokers.  AST members benefit from its user friendly, members-only, online platform that allows them to keep track and triage these opportunities.


Patent litigation
After years of declining patent litigations, 2020 also saw a 13% increase in patent litigations compared to previous years.
While the average ratio of NPE litigations over the last 10 years has hovered around 30% of all litigation, over the last couple years the ratio of NPE litigations has increased markedly.  In 2020, for example, 42% of all new patent litigation campaigns were filed by NPEs indicating increasing threat being faced by operating companies.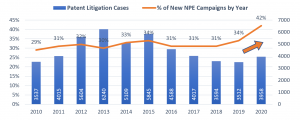 With the risk of patent infringement lawsuits along with an increasing availability of licenses to AST members, there is no better time to employ all tools available to mitigate risk.  To find out more about AST contact member_services@ast.com